Our Vision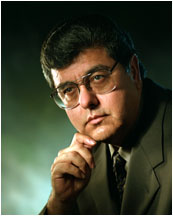 There are many events photographed each year, but only one is yours.   To us, it is special.

Whether you desire the clean, fresh look of the all white high-key images, low-key classical portraiture, traditional candid location photography or something unique that conveys your own personal vision, we always try to meet your expectations.

If you have any questions, feel free to call us at any time. We want to ensure your special day is pleasant in every way.
About the Artist
John is a member of the Professional Photographers of America, Wedding Portrait Photographers International, and the National Association of Photoshop Professionals. He has been a professional since 1970 and is capable of creating stunning images in almost any locale.  Working from our full service residential studio we specialize in children's / family portraits and complete location wedding and social event photography with day and evening appointments for your convenience.